Aging is an art. Meet three modern masters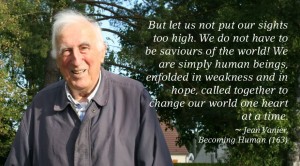 From READER'S DIGEST, January 2015
In the French village of Trosly-Breuil, just north of Paris, 86-year-old Jean Vanier lives a simple life. Each day, he walks from his house to the group home he established 50 years ago, where he eats, laughs and prays with his adopted family. This is the first L'Arche community. Founded on Vanier's vision, the organization is built around the idea that if adults with mental disabilities were settled in private homes alongside non-disabled people, the result would be a boon to both sides.
The son of former Canadian governor general Georges Vanier, he had once seemed destined for a different kind of life. Having written his PhD dissertation on Aristotle, he briefly taught philosophy at the University of Toronto. But there was a spiritual curiosity in Vanier that academia couldn't satisfy, and he followed
his mentor, a Dominican priest named Father Thomas Philippe, to France, taking on a life of voluntary poverty and daily challenge. It irks Vanier when people call him, as many are inclined to, a living saint. The sacrifice he made is no sacrifice at all, he insists, since the disabled offer us a great gift: they teach us how to become human. More generally, having to accommodate the wishes and quirks and demands of others tests our patience and, in the bargain, strengthens it. Would he be the person he is now had he remained on that earlier trajectory? "God knows," Vanier says. "All I know is I'm here now. I have grown. I still have things to grow into—to have fewer barriers, to be more open to people. The story's not finished. I'm 86, but the story goes on."
Unlike physical and cognitive aging, there is no identifiable point where people start to break down spiritually—and no reliable prescription if it happens. Studies have found that those who attend religious ceremonies live longer, although who can say if the active ingredient is the spiritual part and not, say, the routine or the power of social networks.
We tend to think of spirituality in terms of meditation or perhaps prayer, a private inward journey. To Vanier, that is only half the story. A second current nudges us in the opposite direction, out of ourselves and into meaningful contact with others. In effect, at a phase of life when many people start closing themselves off, Vanier counsels opening up. Instead of spending our later years cementing our own comfort within tiny tribes, we should be reaching out. In what one could call an adaptation response of the soul, empathy begets empathy.
In his Grant Study, which began in 1938 and followed a group of male undergraduates from Harvard for the rest of their lives, psychiatrist George Vaillant found that the ones who thrived into old age were the ones who, among other things, figured out how to love and be loved.
If there is a reliable prescription for aging well cordially—from the heart—it's this: keep the company of people you care about and who care about you. "It was the capacity for intimate relationships that predicted flourishing," Vaillant noted.
It's tempting to prop up BJ McHugh, Ephraim Engleman and Jean Vanier in their respective shop windows as models of brilliant aging of the body, brain and soul. But the ways in which people age brilliantly aren't mutually exclusive. Indeed, these three—as with spectacularly robust old men and women of all stripes—have a fair bit in common.
Read the rest of the story here:






Aging
Essays
Featured